Amway Center | Orlando, Florida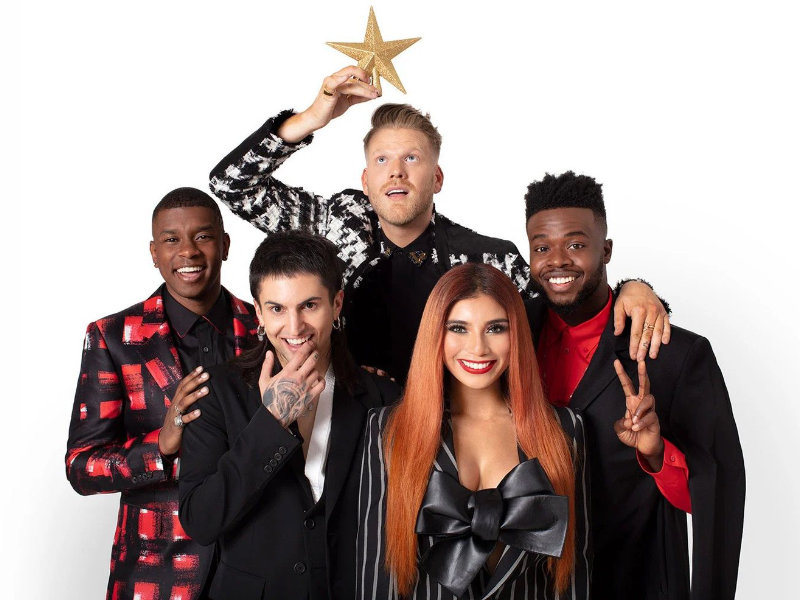 What's better than having the best time of your life and the most spectacular concert in the world? Having that amazing time with none other than Pentatonix performing at a show on a festive season tour. Yup, Pentatonix are hitting the road for an all-out fantastic, amazing, brilliant trek called "The Most Wonderful Tour of the Year." It will see them perform on 23 dates, coast to coast, and do so in spectacular fashion, complete with out-of-this-world staging, one-of-a-kind choreography, and, of course, a bag of hits that stretches all the way back to when they first formed. The whole thing is going to be a real treat, and fans are already rushing to get their tickets. Lucky for you, you've come to the best place to secure your spot, so click that "GET TICKETS" but here and now, be ready for the best night of your life.
Having Pentatonix perform live in front of you is like having your cake and eating it and their performances are guaranteed to put you in the holiday spirit with huge smiles across your face. The previous time they did anything like this, it was nothing short of an astounding commercial and critical success, with a huge number of events selling out pretty much instantly.
As a special part of the trek, they've released a brand new album titled "The Greatest Christmas Hits Album," which includes both classic tracks and eight entirely new, equally impressive bangers. Seeing one of their performances this year is one of the best things you will do and a great way to round out the year .
These performers definitely know how to put on a show, with presentations that include everything from a huge backcatolog of songs to gorgeous staging to excellent choreography. This is an unforgettable adventure that will leave you craving for more and more and give you memories to cherish forever.
Since their formation in 2011, these wickedly talented people have sold over 10 million albums globally, amassed billions in cross-platform streams from fans around the world, and won three prestigious Grammy Awards, among many others. In addition, they've pretty much collaborated with the who's who of the industry, including Kelly Clarkson, Dolly Parton, Lindsey Stirling, and many others; even the Obamas have attended a show they've put on. They've helped numerous good organizations, including the "Make-A-Wish" foundation's efforts to grant children's wishes.
You can anticipate the same degree of brilliance on this tour as you would from any other performance by these peeps since they have done it all and continue to set new standards with each new endeavor. Fans are anticipating a truly memorable performance, and tickets are moving quickly, but you know what to do about it, right? Of course you do; you're a real fan!!! Just click on the "GET TICKETS" button located above and secure your spot before the rest of the fans beat you to it.